Name: Revenant King
Alignment: Tweener
Description: Revenant King is a native of the Caribbean Islands. He wears a dusty overcoat and also wears a rustic top hat. He also sports a cane with a skullhead. He wears his hair long and has a long beard.
Theme Song: "Give Me Your Soul" by King Diamond
Finishers: Unhallowed Burial (Revenant King lifts the opponent onto the top turnbuckle climbs up with the opponent, grabs the opponent's neck, and jumps with him for a chokeslam executing a devastating Unhallowed Burial)
Give Me Your Soul (Revenant King turns the opponent on their stomach grabs the opponent's neck and wrenches and twists it violently upward towards him executing a devastating Give Me Your Soul)
Taunt: Crypt Walk (Revenant King Starts To Move Disoriently Like A Zombie executing A Crypt Walk)
Trademarks: None
Picture: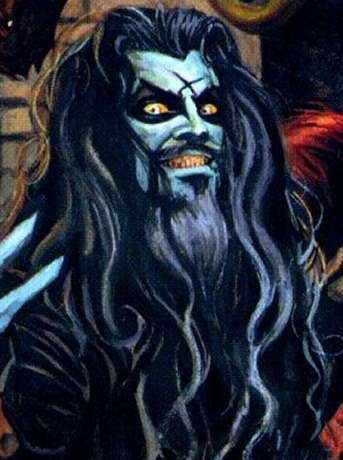 Music:
Biography: Revenant King is a son of a Haitan witch doctor who also practices herbal medicine. He was revered in his land. His father had great expectations for his son to follow in his footsteps. He did... in his own way. Revenant King did follow in his steps, but his method is a little more malicious. He goes into the darker aspects of voodoo with his father's teachings. He kept it secret and uses his "power" for healing purposes. After his father passed away, his limitations were gone. He uses his new found power to gain the upper hand in most conflicts. However, in respect toward his father, he still practices herbal healing. He went around the world to practice his techniques in the wrestling world. He then stopped into the Archetype Wrestling after hearing about Valac having openings in his roster. He didn't hesitate to ask and Valac offered a contract. Revenant King signed the contract with his own blood. Now, his ultimate goal is to perfect his art while still adhering to his father's old traditions.